Holiday Gifts Employees Really Want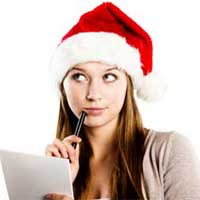 The Christmas Holiday season is a great opportunity to say Thanks to your valued employees.
Most companies want it to be a memorable and personal experience to show the staff how much they truly care and to show appreciation for all they do.
You want to make recipients feel special by giving each employee a special gift, but there's so much to do, in so little time. What can you do to make finding employee holiday gifts easy? We have some holiday gift ideas for employees to share with you!
You know you have to do something to show your appreciation, but are worried that it's difficult to pick out gifts that everyone will appreciate and value. You could put together a employee-gift-giving committee to brainstorm and search for the perfect employee Christmas gift ideas that everyone will love. But, unfortunately, the result is often the same: Everyone gets the same gift, and no one appreciates or values it.
You could just give cash. Everyone could always use a little extra cash. But the memory of that cash gift is fleeting, and quickly forgotten. Cash just doesn't have the memory value of a gift. Worse, over time, cash gifts become expected, and in the employee's mind become part of their compensation - defeating the idea of it being a Thank You Gift.
The Solution! Let your employees choose their own gift. It's the only way you're going to find a gift that makes each employee smile.
With so much diversity in your workplace, the only holiday gift idea for employees that works is one that allows them to choose their own Christmas gift.
With Gift Catalogs, there is a wide range of Christmas gift ideas for employees, and all you do is decide how much you'd like to spend for each employee (there are many price levels - starting as low as $20 complete). Employees can select their Holiday Gift in the comfort of their home - using the catalog or online, and the gift will be sent directly to them. (No more staging of gifts in the office)
Click here to read more, and see how a Gift-of-Choice Employee Holiday Gift Program works.