Employee Incentive Program- Starting
When management asks you to create a new employee incentive program, how should you get started?
We know that employee incentives have the potential to help almost any organization accomplish its business objectives. Incentive programs can help motivate, encourage, and reinforce behaviors you want repeated and can significantly improve employee morale.
Read on to learn more about this important tool, and see how to get started.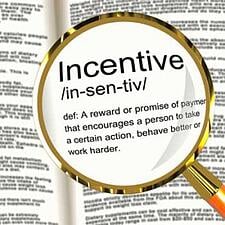 What are Employee Incentives?
Incentives are tools management uses to motivate employees to perform desired actions, while Incentive Plans for employees are formally written schemes encouraging specific actions or behaviors.
Note: See this clear Incentive definition.
To ensure your plan will get the results intended, make certain everyone understands the difference between an Employee Incentives and Recognition. They are NOT the same!
Getting your Incentive Program started:
Determine the scope of your employee incentive plan. Who will participate? Will it be for an individual, an entire work group, or company-wide? Individual incentives are much more effective motivators than group incentives.

Define the specific goals and objectives of your incentives. Keep it simple with a short list of objectives. Be sure they are measurable and realistic. They have to be things that can be accomplished through employee actions, and must have a start and end time defined.

Design employee incentives so it's possible for almost everyone to win, not just the top performers. If each person reaches their goal, or raises their own level of performance, they should be rewarded.

When Incentive Programs are combined with Recognition - set a budget, and define the award values available to each participant who accomplishes your objectives. Use award levels, or reward points redeemable for gifts of their choice.

Provide for frequent feedback to keep participants informed of your incentive program's metrics. Employees will be more motivated when they can monitor their own progress and the progress of others in the group. Doing so allows participants the opportunity to adjust what they're doing while there's still time to meet their objectives.

Program Administration: Determine whether the employee incentive and recognition program is of a short duration, or has incentives tied to specific awards (ie: Sales Contests), or if they are ongoing. For ongoing programs, consider using a comprehensive full-funtion online points-based system, or an off-line paper-based point-tracking system. For one-time type awards, consider gift of choice awards.

Communications: When starting your incentive program, and to keep the employees excited, develop a communications plan that is fun, frequent, and creates excitement. Recognize and praise even small improvements that are achieved. At the end of your program, celebrate all winning participants.

Continually evaluate the effectiveness of your program based on performance improvements, total cost and the satisfaction of employees. Frequently check with participants, asking how they're doing and if they need help.

Awards: Determine your employee awards. Two options are Gift-of-Choice Awards, or the online awards catalog available within a Point-banking incentive platform.
For more information on easy to use and low cost systems for your employee incentive and recognition programs, see Select-Your-Gift's Point-banking, communications and awards platform.