How to keep your Best Employees with Recognition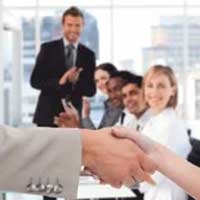 In our previous article about how to hire great employees we described what organizations need to do to HIRE the best employees. This article addresses how to KEEP them by developing an employee retention strategy.
Having a comprehensive employee recognition strategy is a key part to hiring and retaining good employees. Below, some strategies will be explained on how to keep good employees.
To get the most from your strategy, recognition must become a common and frequent practice throughout your workplace. Let's start by considering how Employee Recognition can help you retain good employees in your organization.
Recognition lets employees know that you noticed their accomplishments, and value their hard work. For recognition to be the most effective, it must be timely, for example:
Service milestone awards should be presented as close to actual anniversary dates as possible.

When recognizing an employee caught-in-the-act of doing something special, quickly provide a Spot-Award along with a personal note.
Besides timely recognition, employees must sense your sincerity, that you really mean it. You can easily make that happen by including personal comments in Thank-You notes when giving Spot-Awards, or by talking about an employee's recent achievements when presenting service anniversary awards. These are some ideas on how to keep good employees in your organization.
The goal of Recognition is to make employees feel appreciated, because when that happens:
Employee become more motivated, engaged, and productive

Employees will work harder, often going above and beyond to help their peers and customers

They tend to be more loyal, and will stay longer.
Every organization is different, and each has different recognition needs. Your recognition strategy should be developed to support your organization's goals. Some commonly shared recognition goals are to help increase employee engagement, increase loyalty and retention, increase productivity, improve morale, improve sales, or improve the quality of your products or services. The list is endless.
Some recognition will be in the form of formal programs, such as New Hire Onboarding, Service Awards, Suggestion Awards, or Sales Contests.
Some other strategies on how to keep good employees may be more informal, like Spot Recognition Awards.
Each of your programs may have their own awards defined, or all your recognition initiatives could be combined into a single, company wide Points Based Award Platform.
A Points-based program is a great recognition solution when employees have multiple opportunities to earn points for various achievements.
Summary:
Retaining good employees comes when employees are made to feel appreciated by management, and feel good about their ability to contribute to the organization's success, they become more loyal and engaged. These are potentially your best employees.