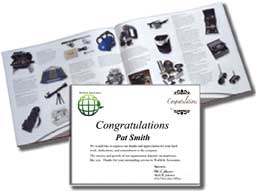 Sales Contests - Guide to Success
Sales incentive contests are great ways to really motivate your sales team. But they will only work if designed correctly. The best way is to give all employees an incentive to increase their own personal sales and reach predetermined goals set for them.
Your goal is to get Everyone to participate and Win! When correctly designed, your sales contests should actually pay for itself.
See this article and get our free eBook to help you design effective win-win sales contests.
A successful sales incentive contest will improve individual performance and productivity, positively impact the morale of your entire sales team, increased sales revenue and allow you to achieve organizational goals in a short period of time.
Here's some guidelines to follow when implementing a sales incentive contest.