Service Award Programs recognize employee loyalty
Get the huge benefits of recognizing your employees as they reach service milestones, and use these special occasions to acknowledge their loyalty, dedication and significant achievements throughout their years of service.
See this article for details on this important recognition tool, and how you can easily show your appreciation with a service award.
The most powerful and cost effective way to recognize employees for their long service is through a formal Employee Service Award Program.
When implemented correctly, the value and impact of a Service Awards Program is great, with companies seeing significant gains in employee morale and engagement.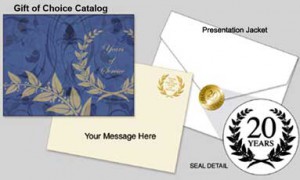 What is an Employee Service Award?
Service award programs are recognition provided to employees upon achieving designated service milestones.
In these service award programs, recognition includes a certificate and an award catalog entitling the selection of one gift, and is delivered to the employee in an award presentation packet.
Preferably, awards are given in formal service award presentations by managers, or they could mailed directly to the employees.
If possible, try to make the presentation of the service awards as close to the employee's actual anniversary date to achieve the most impact of this recognition. If you have monthly or annual meetings, use that as an opportunity to again recognize all of the recent service award recipients in front of their peers.
The following short video provides an Overview of Select-Your-Gift's Employee Service Award Program.
Employee years of service awards can be given for any length of employment. Typical employee years of service awards are given during 1, 5, 10, 15, 20 and 25 years of service. The 1 year anniversary awards are typically given where there is high turnover, as these awards are a great way to build morale as you show appreciation to these newer employees for their loyalty and contributions.
The perfect Service Award Gift
The ideal gift is one the employee can select for themselves, from a catalog that's included in a great looking award presentation packet. The employer can choose the catalog's value according to their budgeted amount per anniversary year.
The employee selects their employee years of service award from a large range of life-style gifts, and it's sent right to their home. Online redemption is also provided, allowing them to see the latest - and largest selection, and encourages the whole family to join in the selection process. This type of award ensures that everyone gets a gift that matches their taste. (See actual award catalogs.)
Employee Length of Service Awards are the most meaningful and cost effective recognition program an employer can implement.

To start improving your company's employee retention, loyalty, and engagement, please contact Select-Your-Gift for a sample Employee Service Award Presentation Packet.

Suggested articles to help plan your new Service Award Program:
Which is better for awards - Cash or Merchandise
Service Award Presentation Tips
The Value & Benefits of Starting a Service Award Program
Catch Up missed milestones - when starting a new Program